By Eric Uram

If, like me, you grew up learning "germs make you sick," you probably think bacteria are the bad guys.
It's bacteria (Streptococcus pyogenes), after all, that cause strep throat.
And bacteria (E. coli) that cause urinary tract infections.
And bacteria (Salmonella) that cause food poisoning.
So, bacteria, of course, is bad.
Right?
The microbial world has been getting a bad rap for years.
But we humans have actually evolved to co-exist with bacteria.
Even more than coexisting, we humans are actually walking, talking microbial communities.
Bacteria is often beneficial
The bacterial cells in our bodies outnumber skin, blood, organ and other cells at least ten to one.
It's not just that bacteria aren't harmful. Bacteria are actually essential to our health. Bacteria and other microorganisms play a critical role in our survival.
Our skin, mouth, airways, gastro-intestinal and urogenital tracts all have microbial populations that co-exist and provide assistance to us. The microorganisms in our bodies help us digest our food, are a vital part of our immune system, and even help us grow.
Yet because of aggressive anti-bacteria health campaigns and propaganda and the relentless marketing of antibiotics (seen a hand sanitizer commercial lately?), we are actually threatening the environmental balance by creating antibiotic resistant superbugsand harming human health.
The human gut starts to be populated with beneficial bacteria and other microorganisms during and just after birth. We get our bacteria on the way out of the birth canal from our mother's vaginal and fecal biota. Once we're born, we get beneficial bacteria from breast milk, human contact, and the world around us as we begin to explore it. It takes about a year for what is now called the "human microbiome" to develop into something resembling an adult's microbiome. If any disruptions to that development occurs early in life, or potentially even before birth, it can permanently affect our health.
What constitutes a disruption to development?
Anything that kills off the bacteria in our body.
The worst culprit is, of course, antibiotics.
Antibiotics affect the body's beneficial bacteria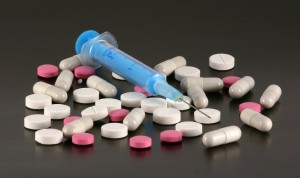 The use of antibiotics during pregnancy, early infancy, childhood, and even into adulthood can destroy the beneficial bacteria in the body, create an unsuitable habitat for good bacteria or even produce prime habitat for bad bacteria.
Antibiotics were first discovered in 1929 and came into widespread use in the 1940s. They were a medical miracle of sorts, a lifesaving intervention that helped people recover from once lethal bacterial infections.

Read the full article at the Safeminds site.